Garage Door Springs
Back To Our Services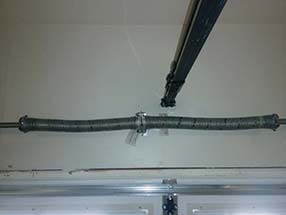 Did you know that springs are essential for your garage door to go up and down? Most people do not realize the significant role of springs in the garage door's steady performance. There are two types of springs: torsion and extension. The torsion spring is the long horizontal one that sits above your garage door. The extension springs are those attached to the sides of the garage door. They help to balance the garage door as the opener brings it up and down.
The best in torsion coil trampoline springs repair.
Our company is the expert company in spring repairs or replacements. Our certified staff will repair or replace the torsion and the extension springs. In case they are broken they will install new ones to ensure your door's stability and excellent operation. So, did you detect any broken springs? Do you need torsion spring replacement? Do you need extension springs installation? Our company guarantees quality work, reasonable prices, authentic products and professionalism.
Garage Door Repair Sacramento deals with all types of garage door spring problems:
* Extension springs often require repair or replacement – If you could see inside the garage door you would witness the amazing functioning of the extension springs on the tracks. In case they break the door will come out of the tracks. Our expert technicians will repair any possible damage or install new springs.
* Torsion springs also require frequent repair or replacement – If you look at the upper part of the inner garage door, you will see a horizontal spring running left to right. That spring helps to lift the load of your garage door and it also keeps it in place when there is strong wind.
It is not advisable to repair or replace the springs on your own because you could be hurt.
When you need help with garage door springs in Sacramento, call our company for service. We are available at any time of day or night. We provide emergency service if you need it at night or the weekends. We can handle most calls the same day you contact us.