Garage Door Repair Services
Back To Our Services
Odd sounds, shaking during opening and closing and very slow movement are just some of the most common symptoms of garage door malfunction. It is important not to ignore the troubling signs even if they appear to be small. Seek our garage door repair services to get a dependable professional resolution quickly. Our company has the right fix forany problem affecting any type of door or opener. We work with all brands and our technicians keep up with the latest industry trends. Our scheduled and emergency services are equally dependable. Let us know how we can help.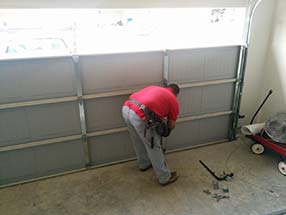 Garage Door Repair Services Provided by Experienced Professionals
It is certainly scary to discover the garage door off thetrack and hanging on one side. In this and similar emergency situations, turn to us with confidence that you will receive help in the fastest possible way. Our technician will be with you in very little time and will come fully equipped with the right tools and spare parts to resolve the problem. When the unit is jammed and hangs on one side, this indicates a snapped garage door cable. Our technician will replace it with a new component of the same size and design. Expect an accurate and secure fitting of the new cable. The system will be tested to ensure that it works as it should. You will get service with the same speed and precision when it comes to replacing a broken spring or any other severely damaged component.
The electronic components of the system can also play tricks on you. If the garage door openerworksby itself or refuses to close the door when you use the remote, simple troubleshooting will not work. Let us, at Garage Door Repair Sacramento, intervene and resolve the problem quickly. Our technicians are equally good at repairing motors, receivers and hardware parts like rails and chains. When a component such as the circuit board or a safety sensor has failed completely, a new one will be installed in its place. You will have safely working opener before you know it. All of our replacement components are of top quality.
The modern doors for garages are made from various types of materials from steel and wood to aluminum, vinyl and fiberglass. They are all strong and have good resistance to the adverse effects of the surrounding environment, but they can still get damaged. If you notice any problems with the garage door panels, you should share them with us even if they are small. We are experts in dealing with rust, corrosion, decay and all other kinds of damage. Our garage door repair service is designed to restore the condition of the panels completely and to protect them fully.
Go through the regularly updated offers of our company.