Common Garage Door Problems and How to Deal with Them
08/08/2013
Back To Blog
There is not a single family house in California and especially in the residential areas of the nice big cities' suburbs without a small or big garage, where the cars of the families are protected and many daily activities take place. The expansion and necessity of garage doors is great and, in fact, current architectural trends suggest new ideas in terms of materials or ways to use them. That's why we see some modern houses, which have glass garage doors in their living room or households that choose another material in intense colors and modern motifs.
Daily use gives birth to frequent problems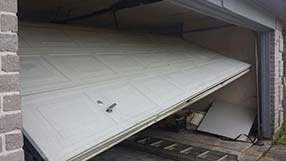 Regardless of the garage door type or whether it is installed in the garage or your bedroom, it is used multiple times during a day. As a consequence, the garage door parts are obliged to work hard 365 days every year and often without the proper maintenance. It is self-evident that all of them will need to be replaced after a few years, but in the meantime their everyday use and the fact that they are exposed to the weather conditions every single moment make them more vulnerable over time and certain problems will definitely pop up.
The most common issues
* The loose cables and the dirt or elements accumulated in the garage door track may result to the door off track.
* The door does not move at the same speed as before or cannot be hold still at a particular point due to damaged garage door springs.
* The door doesn't move at all due to dysfunctional remote controls or opener problems.
* Distorted tracks will block the movement of the door, which will open up until a certain point and then stop.
* Excessive noise is usually the warning for the need of lubrication maintenance on the mechanical parts.
Deal with the problems
The first step is to detect the problem and acknowledge which parts are problematic and the second step is taking care of the problem. Of course, if you don't want to engage on extension springs repair you should ask the assistance of the professionals at Garage Door Repair Sacramento. At bottom line, you should take care of the problems quickly and not let them compromise your safety or the security of your house.